How to Make Ekpang Nkukwo (Ekwang)
Ekpang Nkukwo; also known as Ekwang is a traditional food native to the South-South Eastern part of Nigeria, particularly the people of cross river and Akwa Ibom. It is also enjoyed in Cameroon, mostly popular among the Bakweri tribe (the kwe tribe).
If you have ever heard of this dish, you would have also heard that it is very tedious and time consuming to make. This dish is so special, it should be reserved for special occasions. I mean, no one will go through the stress of making this dish except you mean a lot to them. Really!
Ekwang is made from a combination of freshly grated cocoyam and water yam, then wrapped in green leafs. Traditionally, it is wrapped with cocoyam leaves or sweet bitter leaves. But this dish has evolved a bit in recent times; the cocoyam can be wrapped with other types of green leafs like; collard greens, spinach, lettuce or romaine. Whatever green leaf you decide to use, you must ensure it has no holes or tears.
In the old days, whenever this dish was to be made at home, it would require the effort of every member of that family. After the whole process was completed and the food was ready, it was served traditionally in large enamel trays known as "nainai". The children would gather around the tray with their spoons and dig into it hurriedly, not minding that the food was still very hot. Anyone that didn't have an "air conditioned" mouth to blow the hotness away would eat the least portion. I am sure it was a great fun for these kids.
Ekpang Nkukwo is similar to the Ikokore dish of Ijebu origin, they are both pottages. But Ikokore is made with only water yam.
Traditionally, a grater is used to smoothen the cocoyam and water yam, this can be really stressful and time consuming. But, you can use a food processor to save time. In fact, these days most people just use a food processor. Cocoyam can be really itchy, you should limit skin contact to your palms when grating and wrapping it or better still, wear a disposable glove. It is important to note that not just any type of cocoyam is used for this dish. The red cocoyam is most preferable. However, if you do not have access to this type, you can settle for the white ones but you would have to dry them out. If you are using the white cocoyam you would need to buy them a couple of days early (before the cooking day) and then, dry them out. This would ensure a better result.
Let's cook…
Since the preparation time for this dish can be really long if you are starting from the scratch, you can shorten the process by blending the cocoyam and water yam a day before. If you decide to do this, you would need to divide the grated mixture into Ziploc bags or plastic bowls and freeze. Also, to shorten the process you can cook the meat, fish and stock fish a day before. If you prefer your periwinkles unshelled, you should consider deshelling them in advance too. This will also reduce the preparation time.
During the cooking process, you should avoid stirring too much in order to prevent the Ekpang Nkukwo (Ekwang) from becoming mushy.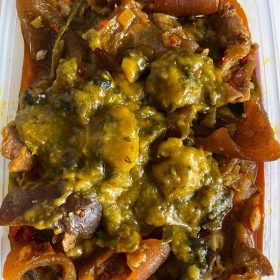 How to Make Ekpang Nkukwo
How to make Ekpang Nkukwo (Ekwang) - cooking tips. Ekpang Nkukwo; also known as Ekwang is a traditional food native to the South-South Eastern part of Nigeria, particularly the people of cross river and Akwa Ibom.
Prep Time
1
hour
20
minutes
Total Time
2
hours
12
minutes
Ingredients
3

Med. Size

Cocoyam(s)

2

Small

Water yams (Dioscorea alata L.)

2

Small

Onions (Bulb)

1

Kg

Beef

4

bunchs

Cocoyam leaves

(as much as needed to wrap the cocoyam and water yam)

½

Cup

Unshelled Periwinkles

1

Medium

Dry Fish

½

Cup

Fresh Shrimps

6

dressed

Crabs

(optional)

3

tbsp

Crayfish

(grounded)

1

Cup

Pieces Stock Fish

8

pcs

Scent Leaves

1

tbsp

Dry Pepper

½

Cup

Fresh Pepper

2

Cooking Sp.

Palm Oil

4

Cubes

Seasoning

Star Maggi/Know Cubes

½

tbsp

Salt

To Taste
Instructions
Wash the beef and stock fish into a pot. Add onion, seasoning cubes, salt and water. Bring to boil until they are both soft.

Cut the cooked beef and stock fish into smaller pieces and set aside.

Peel and wash the cocoyam and water yam properly. Cut them into smaller pieces. You should do this in a clean bowl ofwater to prevent discoloration.

Grate or blend the cocoyam and water yam mixture and set aside. If you are using the blending method, avoid using too much water to blend.

Mix the grated/blended mixture with little water to soften it further. Add a pinch of salt and continue mixing.

Rinse the cocoyam leaves properly and tear into medium pieces and set aside.

Scoop a tablespoon of the grated/blended mixture and wrap it lightly with a piece of cocoyam leaf to form the shape offingers (the wraps are shaped cylindrically).

Blend the fresh pepper and set aside.

Wash the fresh shrimps and the deshelled periwinkle.

Wash and slice the scent leaves.

Prepare a clean pot for cooking the Ekpang by rubbing pam oil at its sides and base.
Recipe Video
Recipe Notes
Method
Place periwinkle at the base of the oiled pot.
Arrange the wrapped cocoyam fingers in a circle in the oiled pot. Place each wrap on each other until the wraps are exhausted.
Add 2 cups of water sequentially from the edge of the pot. Allow to boil on low heat.
Add the pieces of cooked beef and stock fish, dry fish, shrimps, salt, crabs, seasoning cubes and fresh pepper.
Continue cooking on low heat.
Shake the pot after about 20mins. This will loosen up the food and prevent it from sticking to the base or sides of the pot. Remember, do not stir.
Add the meat stock and palm oil and cook for another 10mins.
Stir by lifting the Ekwang from side to side with a wooden spoon so that the Ekwang does not become mushy.
Add crayfish, dry pepper and scent leaves. Stir gently. Allow to simmer for 5mins.
Your Ekwang is ready, serve hot
Ekpang Nkukwo (Ekwang) is what you call a highly nutritious meal. This one pot contains; carbohydrates, vitamins, proteins, minerals and oil.