How to Make Fura Da Nunu
When I was younger, I always looked forward to festive periods especially Christmas. This was because we always had a lot of people coming to our home for the duration of the celebration, a lot of food and endless laughs; after all, Christmas is a time to share happiness.
However, in the midst of all this fun, one thing was always on my mind and I would never be completely satisfied until it happened. The highlight of every Christmas celebration was when our auntie Lola came in to join the celebration. All the children would get really excited and jump on her body.
Our excitement was associated with the fact that we knew our 'Fura Da Nunu' had arrived. Auntie Lola, my mom's distant cousin, was married into a Hausa family. Every Christmas, she would make a big bowl of Fura Da Nunu and bring it over to our house. Everyone loved it especially me. It was so refreshing that I always went back to ask for seconds.
Recently, I paid my auntie Lola a visit and she made me this delicious drink. And absolutely nothing had changed about its taste or how it made me feel.
To be honest, my recipe for this drink might seem a little unconventional because I learnt how to make it from my aunt and not some cookbook or manual. And I have been using her method for a long time now and it has gotten amazing reviews from persons who have had a taste of 'my Fura Da Nunu'.
Enjoy the ride as I tell you all my secrets to making this drink taste really amazing.
Fura Da Nunu is a drink with northern Nigeria origins. It is produced and consumed mostly by the Fulani's. It is translated to English as Millet and Milk. Nono is locally fermented cow milk which resembles yoghourt in thickness but isn't quite as thick while Fura is the millet. Fura Da Nunu is simply a refreshing locally made drink prepared from the combination of fermented milk and ground millet grains.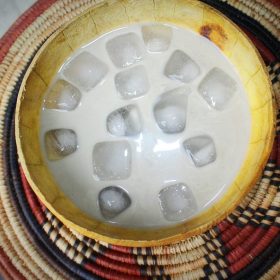 Fura Da Nunu (Kafir Milk)
Fura Da Nunu is a drink with northern Nigeria origins. It is produced and consumed mostly by the Fulani's.
Ingredients
1.5

cup

Millet

1.5

tbsp

Alligator Pepper

1.5

tbsp

Gingers

4

cups

Nunu (Kafir Milk)

3

tbsp

Sugar

to taste
Instructions
Properly wash the millet.

Soak the millet for 5mins in hot water to make it soft and easy to blend.

Put the millet into a blender. Add the alligator pepper, ginger and a cup of water. Blend until it is smooth.

Pour the mix into a pot and cook on medium heat until it thickens and forms a dough.

Scoop the millet dough into a bowl and set aside.

Add the Nunu (Kafir Milk) to the millet dough and mix properly.

Your Fura Da Nunu (Kafir Milk) is ready. Serve and enjoy.
A lot of people consume this milk-millet drink not only because of its refreshing taste but also, because of its health benefits.
Nono is loaded with a good number of vitamins and minerals that are essential to the physiological processes that take place in the body.
These vitamins and minerals include; vitamin B5, B12, potassium, phosphorus, riboflavin, iodine and zinc.
The millet contains magnesium which helps to reduce migraines and heart attacks. Also, the millet helps in fat metabolism, repair of body tissues and provides energy for the body. The Vitamin B3 contained in the Millet helps to lower cholesterol levels.
Nunu (fermented cow milk) contains high amounts of proteins and bone building calcium. It is also an excellent source of probiotic which helps to eradicate harmful microorganisms that my cause intestinal infections. Also, its alkaline nature helps in promoting digestion and preventing constipation.