How to Make Ojojo (Water Yam Fritters)
Some people may not know what yam fritters are but when it is called by its popular name 'Ojojo', it is sure to ring a bell. Especially among the Yoruba's.
Ojojo is a special traditional delicacy made from grated water yam. It is mostly enjoyed as a snack and is sometimes served in parties as small chops. However, it is considered a meal when it is paired with hot Pap, Garri or Oat meal. It is quite easy to make and undergoes the same procedure for making Akara (the whole process takes no more than 45mins). Ojojo is incredibly filling and can be eaten before the start of a long day's work.
I have to confess, I have an enormous amount of love for yam fritters. Growing up, I always loved it. My mum used to make it every Saturday just before lunch. I remember how much I loved helping out in the kitchen whenever it was time to make Ojojo. One time, I didn't let them cool before I began feasting on them and got my tongue badly burnt. But that didn't stop me from enjoying my favorite snack.
One thing I love about Ojojo is its versatility; although plain, you can be creative with it and add whatever you think will work. I have added shredded beef and chicken to my Ojojo mix and also tried them with chopped shrimps; both tasted really amazing.
I have noticed that most people enjoy this snack mostly when it is very crunchy on the outside but soft or fluffy on the inside. However, not many people are able to achieve a mix with a consistency that makes the Ojojo fluffy yet crunchy on the outside. I usually like to grate the water yam but some people find this process stressful and time wasting and therefore would prefer to use a blender. If you decide to use a blender, you are advised to chop the yam first into bits. Water yam is really soft and easy to blend. But if you have to add water while blending it, do it with great care. Water yam itself contains enough water and you wouldn't want your mix to be watery.
For those like me; who enjoyed Ojojo during their childhood, it is time to learn how to make them.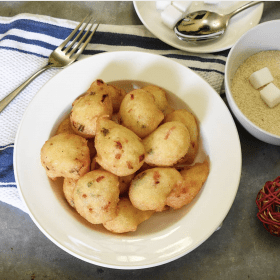 Ojojo (Water Yam Fritters)
Ojojo is a special traditional delicacy made from grated water yam. It is mostly enjoyed as a snack and is sometimes served in parties as small chops.
Ingredients
½

tuber

Water yam

½

ltr

Vegetable oil

2

pcs

Yellow chilies

Chopped

1

pc

Habanero Oepper (Atarodo)

Chopped

1

pc

Medium Size Onion

Chopped

½

tbsp

Ground Garlic

1

bowl

Warm water

Little bowl

1

tbsp

Ground Crayfish

10

pcs

Shrimps

Freshly Chopped

2

Cubes

Seasoning Cube

(Knorr/Star Maggi)

2

tbsp

Salt

Salt to taste
Instructions
Peel the yam. You would want to place the yam in water while peeling to prevent it from going brown.

Wash the yam and leave it in clean water. This also keeps it from turning brown.

Get your grater ready. Grate each piece of the yam with the smaller side of the grater. If you prefer blending the yam, you should cut it into smaller pieces so that it blends easily and remember to be careful whilst adding water during blending.

Once you have grated/blended all the yam, put it in a bowl and begin to mix with all our ingredients (crayfish, shrimps, pepper, onions, seasoning, garlic and salt. You would want to use a spatula (Garri Turner)for this. Make sure you mix properly to ensure there is even distribution of all the ingredients.

Preheat oil in a fry pan. Ojojo needs to be deep fried in order to achieve its signature round shape.

Once the oil is hot enough, scoop the yam mix into the hot oil using your hand or a deep cooking spoon. If you use a spoon, deep the spoon into warm water before scooping the yam into the oil. This helps the mix slide off easily into the oil.

Allow the underside to cook till golden brown before turning the other side.

Flip the other side and let it cook till golden brown as well.

Once both sides of the Ojojo is cooked, press it on the side of the pan and remove from the oil. Place on a paper towel, this helps to absorb all the excess oil.

Your Ojojo is ready. Serve hot.
Recipe Notes
You can enjoy with peppered stew, oat meal, custard, soaked Garri or hot pap.
Water yam contains a lot of nutrients beneficial to the body. It contains Vitamin C, A, B and E. These vitamins are known to have antioxidant properties. They are also a source of carbohydrate and fibre. Also, it has anti-inflammatory properties that helps to reduce the risk of chronic disease.