Boiled Yam & Ugba Sauce (African Oil-Bean Seed)
I had the opportunity of making this special delicacy for my mother in-law when she visited my home last month. And guess what friends? She absolutely loved it. At first, I was scared because well, the food is not native to our part of the country and may be too different from what we are used to eating, but I was glad she loved it.
To some of us reading this article, Ugba may seem a little strange because, it may be recognized by a different name in the part of Nigeria you originate from. To deal with any confusion that may arise in your minds, I will shed some light on the culinary delight.
Ugba is the Igbo name for fermented African Oil-bean seed. It is also known as; Ukana in southern part of Nigeria by the Efik's, Apara by Yoruba's and Ukpaka by some other Igbo's. It is majorly consumed in eastern Nigeria; especially by the Igbo's. In fact, 15 million people in eastern Nigeria consume this very nutritious bean. It serves as both a delicacy and a food flavoring agent. It also plays a role in the economic, social and cultural sectors of eastern Nigeria.
Ugba is obtained from a perennial legume tree; the Oil-bean tree botanically known as Pentaclethra macrophylla. The trees are usually planted along roadsides or as shades and in some communities as cash crops. The fruits gotten from these trees are black, hard and have a woody pod with a length of 35-36 cm and a width of 5-10cm. When the seeds are mature, they split open releasing about 8 flat, glossy brown seeds of 5-7cm with a weight of 15-20g. Since the seeds are usually collected by people of the community who in turn sell them to ugba producers in the market, the quantity of ugba produced annually is unknown.
There are different ways in which the seeds of the Oil-bean tree are prepared. These methods vary from one community to the other. However, there is one method that is common among most Nigerians. First, the seeds are boiled for 16-18hrs to remove the tough testa. After which the cotyledons are sliced and boiled again for 30mins and then left in water to ferment until the next day. The sliced cotyledons are then washed and wrapped in plantain or banana leaves. It is these cotyledons we purchase in the market as "ugba".
Ugba can be served as a complement alongside other dishes like; Abacha (African Salad) and Isi-Ewu.
Ugba is very important due to its nutritional composition and benefits to those who consume it. Apart from it been a cheap source of protein, it is also an excellent source of energy, amino acids, phosphorus, magnesium, iron, vitamins, calcium, manganese and copper. It is rich in phytochemical such as; tannins, alkaloids, flavonoids, sterols, glycosidase and saponins.
Also, studies have shown that the Oil bean seeds are capable of reducing the growth of cancer cells. Evidence shows that cancer patients who consume this seed recorded a great reduction in cancer risk when compared with those who do not consume the seeds. Consuming Ugba can aid in lowering the plasma cholesterol level. Seeing that it is a rich source of phytoestrogens, it can also be used by the obese to control obesity; consuming it as a nutritional and vitamin supplement.
Now that you know what Ugba is and the health benefits it possesses, we can proceed to just how to make the delicious Ugba sauce.
The process of making this meal is quite simple. You need to visit your local market to purchase all necessary ingredients. You are advised to buy soft Ugba over the hard ones as it will take a lesser time to cook.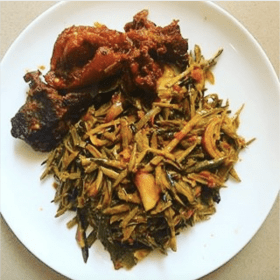 Ugba Sauce (African Oil-Bean Seed)
Ugba is the Igbo name for fermented African Oil bean seed. It is also known as; Ukana in southern part of Nigeria by the Efik's, Apara by Yoruba's and Ukpaka by some other Igbo's.
Ingredients
2

wraps

Ugba

(Soft type)

1

med.size

Smoked or dry fish

2

med.size

Fresh garden eggs

(sliced)

6

tbsp

Tatashe (ground)

...or 1 cooking spoon

2

tbsp

Scotch bonnet pepper

(sliced)

6

tbsp

Palm oil

...or 2 cooking spoon

1

Bulb

Onion

Finely chopped medium sized

1

tbsp

Ground crayfish

1

cube

Seasoning cubes to taste

2

tbsp

Salt

... to taste
Instructions
Wash the smoked fish with clean water. Remove the bones and gut, rinse clean and keep aside.

Rinse the Ugba 3-4 times with clean water and set aside.

Heat the palm oil in a pan. Fry the onion, then add the pepper. Fry a bit till the pepper is properly cooked.  Next, add crayfish and seasoning to taste.

Add the smoked fish, Ugba, garden eggs and water and cook till the fish and garden eggs are soft. Allow the water to dry up.

Your delicious meal is ready. You can now serve with boiled yams or any other staple dish of your choice.