How to Cook Owo Soup
First up there are a number of ways to spell the name of this dish;
This is one of the most famous dishes for the Urhobo people from Delta State, Nigeria. But to be honest the Bini People from Edo State will give the Urhobos a fight for the origin of this beautiful soup.
First off let's talk about the Urhobo Owo Soup:
Ingredients for Urhobo Owo Soup
Assorted Meat and Fish;
Beef
Cow Skin
Cow Trip
Snails
Shell Fish
2 Teaspoons powdered edible potash (Akanwu, Kaun, Keun)
3 Tablespoons ground crayfish
1 Cup Garri
Hot and spicy pepper (to taste)
2 stock cubes
Native Urhobo Salt (A particular type of Potash/native salt called Ugwerue)
Preparation:
This my interpretation of the Urhobo Owo Soup, and is not the only way it can be prepared but let's get down to business, there's my Step-by-Step guide to making the Urhobo Owo Soup:
First thing you need to do is boil your assorted meats and fish to soften it.
Once it's soft, debone the fish and meat.
Add a little extra water, so you have this bubbly crayfish and pepper stock. Once the stock has started boiling, add palm oil and allow it to dissolve.
Pound potash to a powdery form and mix with water and a pinch of Salt (or Ugwerue Native Salt). Ugwerue is used traditionally, but if you can't source that, your friendly old potash will serve. You only need a small quantity of potash. I did not use all the potash you can see in the picture below. I only took about half a teaspoon.
Slowly add the potash solution to the stock. After adding the potash solution to the water, you will notice the contents of the pot foaming up. Allow this to foam up and for the heat to also cook the potash. Be careful not to add too much of the potash solution. Otherwise, the soup will have a nasty metallic taste. At no point should you cover the pot, otherwise it will boil over.
While the potash is cooking in the stock, soak Garri in water. You need to soak Garri in water, to allow it soften to a thick paste. Otherwise, the Owo soup will have a grainy feel to it. You don't want that. With Owo soup, you have 2 choices of thickeners. Starch or Garri. You can also use both. I ended up with this glob of soup, which just had a yucky look and texture to it. I was pissed, to say the least. I could have added hot water to make the soup more fluid, and it would have been okay, but I couldn't get the image of the glob out of my mind, so I binned it. If I were using the local edible starch, I know I wouldn't have had any problems. I binned that pot, tried again and this time using only Garri.
Add the soaked Garri to the pot and stir vigorously, to prevent it from forming lumps. In a few minutes, the soup will thicken as it should. Let it continue cooking.
I decided to finish off with a little extra water, to make it more fluid, shredded smoked fish, and I readjusted for salt. You will know the soup is ready when patches of palm oil begin to float to the surface. At this point too, the Garri had dissolved completely, leaving a creamy soup. You may wish to leave it on low heat to thicken a little longer.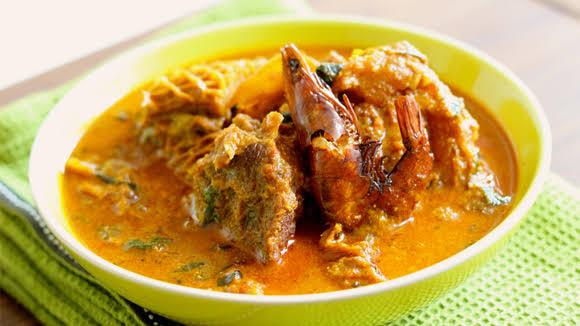 Dish you Owo soup and Serve with Yellow Garri, Delta Starch, Semolina, Pounded Yam and lots more.