How to Cook Groundnut Soup
Groundnut Soup (Peanut Soup). It is prepared the same way as Egusi Soup so you can apply the same methods of preparing Egusi Soup to Groundnut Soup with great results.
I'm going to talk about two recipes.
First Up let's talk about Omisagwe; Edo/Standard Groundnut Soup
Ingredients:
1 cup raw un-skinned groundnuts
¼ cup Oziza seeds
1 handful of chopped Efinrin
1 medium sized smoked fish
1 medium sized Stockfish
An assortment of boiled meats
Beef stock
3 – 4 Ata Rodo or more – I will say more because you'll enjoy this soup spicy
1 red onion
1 cooking spoonful of Palm oil
1 cup periwinkle
Salt
Preparations:
In a stew pot, braise the goat meat over low- medium heat with the onions, bullion and salt for 30-35 minutes. If you are cooking goat meat from an older or male goat, you may need to cook the meat for longer for it to be tender.
Next, toast the peanuts in a pan, stirring continuously over low heat, till the nuts turn toasty in color. It should take about 15- 25 minutes depending on how hot the pan is.
Allow the nuts to cool completely before grinding.
In a blender, food processor, mortar and pestle, grind the peanuts into a rough powder. Be mindful not to blend into a butter (it really doesn't hurt if blended to a butter, this is just how I learned to do it).
Mix the braising the liquid from braising the goat meat and water (should make up about 3 cups of liquid) with the ground peanuts and scotch bonnet peppers in a pot making sure there are no peanut lumps. Bring this mixture to a gentle boil over low- medium heat for about 10 minutes, mixing continuously to prevent burning.
At this stage, you may add more or less water depending on the consistency you prepare. If you prefer a lighter soup, add more water. If you prefer a thicker soup add no more water. Note that as the stew continues to cook, it usually thickens up. It also thickens a little more once it cools down.
After 10 minutes, add in the palm oil, braised meat, crayfish, and cook for another 5 minutes.
Add in the chopped spinach and simmer for 5 minutes on low heat, stirring occasionally to prevent burning.
Now Let's Talk about The Ground Soup prepared like it's Egusi (The Egusi Alternative Groundnut Soup)
Ingredients:
4 cups of Groundnuts (500grams)
Any desired protein (Fish, beef, chicken, chevon, Shaki, etc). I prefer using Shaki and beef.
2 and 1/2 tablespoons of ground crayfish.
4 cooking spoons of red palm oil.
Two medium dried fish
Stockfish (head or flakes)
1 tablespoon of salt
1 tablespoon of ground pepper.
3 seasoning cubes
A small bulb of chopped onions.
A small bunch of pumpkin leaves
Preparation:
Grind your Groundnut seeds in a blender. When grinding with a blender, ensure that you do not put too much water. For the four cups of Groundnut, you would need one cup of water. The result will be a thick paste. If you had a spice crusher, more like a manual grinder, grind the Groundnut seeds into clear, free-flowing powder. With the spice crusher, you do not need to use water, because it will make the crusher stiff and make the Groundnut seeds to cake in the blade. Most people, however, prefer to grind theirs in the market or buy theirs already grinder and packaged. It is all good. However, to get the fresh feel of Groundnut, it is best to grind the seeds when you are ready to cook. Grind and set aside.
Wash the pumpkin bunch with clean water, at least twice. Shake the leaves vigorously to remove sand if any. Then shred to thin slices and set aside.
Wash the beef and shaki, season with half of the tablespoon of salt, one seasoning cube, and chopped onions. (If you decide if to use chicken, do not use the dry fish and stockfish because of the clashing flavor.) Place the seasoned beef and shaki in the pot, allow it to steam for a while, say 5 minutes, with medium heat. Do not add water; instead, let the water from the meat seep out and cook the meat. This is to ensure that the seasoning goes into the meat. Make sure you always check on the meat to ensure it doesn't burn. Once the water has dried up, add enough water to cover at least three inches above the beef and shaki. This water will be used to cook the soup later.
While the beef is boiling, boil a kettle of water. This water will be used to wash the dried fish and stockfish. Before washing the dried fish, remove the entrails. That is if they are still present. Put the stockfish and dried fish in a bowl, soak in hot water for about 6 minutes. Drain the hot water, rinse with cold water, and add to the pot of soup. Leave it to boil, till everything is tender to your satisfaction. Empty the pot and set it aside.
Heat the pot, till it is dry, add the 4 cooking spoons of red oil. Allow it to heat until the oil is translucent. Once this happens, add the Groundnut, whether in a paste or powdered form. Mix the Groundnut with the oil until every grain of Groundnut turns yellow.
Start stirring the Groundnut on low, medium heat. Keep stir-frying for about 10 minutes. Ensure that it doesn't burn while you stir. If it begins to burn, check your heat level. Reduce it to medium.
While stirring, add the stock (water from cooking the meat and fish), little by little. Keep doing this until the stock is exhausted. If you feel that the soup is too thick, add hot water in the same way until you get the consistency you want. (If your leaf choice is bitter leaf or uziza, add it at this time because it is tough.)
Cover the pot and cook for 20 minutes, and keep stirring at intervals. Also, top with hot water when necessary. Note that if you do not stir the soup, it will burn. It takes about 25-30 minutes to cook Groundnut properly. If it doesn't cook properly, it may cause stomach upset. When the Groundnut is done, you will notice that the oil has separated from the mix.
At this moment, add your ground crayfish and pepper. Stir and add the pumpkin leaves.
Also add the cooked beef, shaki, dried fish and stockfish.
Then add the remaining two seasoning cubes and stir properly. If it is still too thick, add water and bring it to the consistency you like.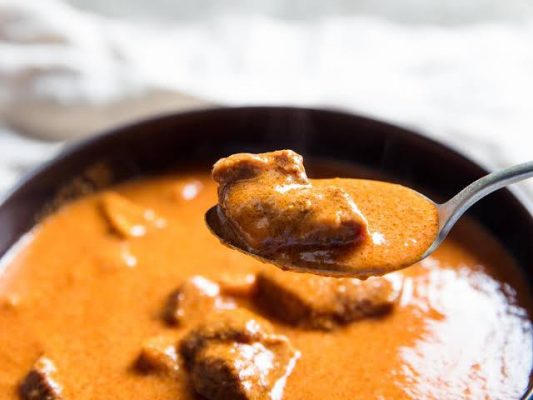 Food is ready, serve your Groundnut soup or peanut stew. It is a nutty, savory, spicy and totally delicious peanut stew usually eaten with a starch like rice or eba.