How to Make Miyan Kuka
Soups are a necessary part of our culture as Nigerians; little wonder there are different type of soups available in every community within the country. The Yoruba's love their Ewedu, the Igbo's have their Ofe Onubu, and the Edo's enjoy their bitter leaf soup; let's not forget the famous fisherman's soup of the rivers people. In all my years, I have noticed that although each tribe have foods native to their locale, these foods are not just eaten by people of that culture; but also eaten by others too.
Miyan kuka is a delicacy of Hausa origin. If you have ever been to the north, you must have noticed some dark green powder sold in northern markets by the traders; that is what northerners call Kuka. It is made from Baobab leaves. The leaves are usually dried in the sun and then grind into fine powder. Miyan kuka is also called Luru soup.
Prior to the day I tasted this soup, I had always felt disinclined to partake of the dish because of its appearance. However, the day I had a taste I knew I had been missing out on an experience all this time. I really can't explain how it tastes but, I am sure that anyone who loves Ogbono soup will enjoy this soup. Right now, Miyan Kuka is my 3rd favorite soup.
To enjoy Miyan Kuka, make sure your meat is properly seasoned. The stock from the meat will add flavor to the soup. While some people like this soup thick, others like it really watery. I personally love my Miyan Kuka moderately thick. However, the case may be, the amount of Kuka powder you use for this soup would influence the consistency of your soup. If you love thick soups, then you should add enough kuka powder to make the soup thick.
The kuka powder may contain few tiny particles. You are advised to sieve the powder before using it to cook.
I have noticed that Miyan Kuka tastes better the longer it stays. For me, it tastes much better the day after it has been made. It's not like i cooked the soup and waited till the next day before I dug in though. I had some leftovers I packed in my fridge and had to microwave it the next day for lunch, that's when I found out that a day old Miyan Kuka tastes even more amazing.
Miyan Kuka is normally eaten with Tuwo Shinkafa but, you can enjoy with any swallow of your choice; especially Fufu.
Let's cook…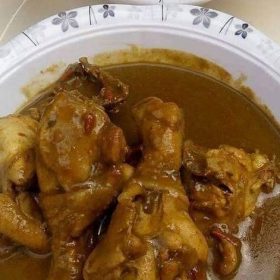 How to Make Miyan Kuka
Miyan kuka is a delicacy of Hausa origin. If you have ever been to the north, you must have noticed some dark green powder sold in northern markets by the traders; that is what northerners call Kuka
Total Time
1
hour
5
minutes
Ingredients
1

pc

Medium Sized Smoked Black Catfish

½

Kg

Assorted Meat

2

tbsp

Kuka Powder

1

tbsp

Ginger Powder

1

tbsp

Garlic Powder

1

pc

Small Onion

(finely chopped)

2

Ozs

Palm Oil

2 Ozs = cooking spoon (Approx.)

2

cubes

Seasoning to Taste

Maggi/Knorr

1

cup

Water

3

tbsp

Locust Beans

1

tbsp

Ground Crayfish

½

tbsp

Dry Pepper

1

tbsp

Salt to taste
Instructions
Wash the assorted meat and dry fish.

Put the meat into a pot and season properly. Also add the powdered ginger and garlic.

Add water and cook until the meat is tender.

In a separate pot, heat up the oil and fry the onion.

Gradually add the meat stock to the oil.

Add the washed dried fish and more water if you desire. Cook for 5 minutes to get seasoning into the fish.

Add crayfish, pepper, seasoning and locust bean to the boiling pot of meat stock and dried fish. Allow to simmer.

Takeout the fish from the pot. The essence of taking out the fish is so you can have enough space to whisk the Kuka so that you don't end up with a lumpy soup. But, if you are sure you can whisk it properly with the fish in there, then there is no need to take it out.

Sieve the Kuka powder into a bowl before adding it to the pot. You are advised to add the powder with your hand. A little at a time and whisk consistently until you end up with a lump free consistency. You can add more water if the soup is too thick.

Allow to cook for about 3 mins.

Add the fish, meat, and salt to taste. Allow to simmer.

Your soup is ready. Serve and enjoy your meal.
Recipe Notes
As already mentioned, Kuka powder is gotten from grinding dried baobab leaves. These leaves are highly rich in essential vitamins and minerals. They help balance blood sugar levels and also contain Antioxidants and polyphenol that reduce inflammations.