How to Make Fisherman's Soup
As always let's start with a bit of history.
Nigeria is fortunate to be blessed with a number of waterbodies and this makes fishing a dominant profession among the riverine communities within the country.
Fishing generally encourages migration because the availability of fish is greatly influenced by tidal movements. This makes fishermen move to different settlements in accordance with the flow of the water current to increase their chances of catching fish. Since the migrations were unavoidable, the fishermen thought it wise to establish temporal fishing settlements where they can return to after they migrate to the waterbodies around their temporal settlements.
Back in the day, only men were allowed to migrate for fishing purposes. So, when the time came for migration, their wives would gather and pack food stuff that would sustain their husbands until they got back. At the settlement, the fishermen made meals with anything their nets caught. It goes without argument that this soup delicacy was invented by these fishermen; born out of their passion for the river where they earned a living.
The fisherman's soup is very popular among the Niger-Delta states of Nigeria, mainly; the riverine communities of Rivers, Akwa Ibom, Cross River and Bayelsa. This delicacy gained popularity amongst the people of these communities because of the large body of water available in their communities. As a result, most people from these regions make their living from the sea; as fishermen.
Since the fisherman's soup is prepared majorly with seafood, we will be discussing the health benefits of seafood.
Seafood is a high protein food with low calories, total fat and saturated fat. It is high in vitamins and minerals. Studies conducted on seafood have proven that it has a lot of health benefits. Health benefits include; the ability to decrease the risk of heart attack; both in early and late life, it aids in reducing risk of stroke incidence, and a decrease in risk of obesity and hypertension.
Again, seafood, especially fish contains omega 3 fatty acids which contributes to the neurological development in infants.
It also contributes to vision development and nerve growth in the retina of the eyes. A 2014 study published in the Investigative Ophthalmology and Visual Science journal suggests that those people who consume the Omega-3 fatty acids in seafood are less likely to suffer from age-related macular degeneration; a disease that can result in the loss of vision. Fish and shellfish can help enhance your night vision. Since seafoods are rich in proteins, they help build up muscles and tissues.
There are different recipes for making this soup, exclusive to different communities within the Niger-Delta. While some people use Tomatoes in preparing this food, others do not. Some people use Okro while others do not. Again, some people decide to use Garri in thickening the soup while others use pounded yam or cocoyam. The different styles for cooking this meal only shows creativity in cooking and doesn't show that one way is better than the other. However, the recipe I will be using is the one most common among the people of Rivers State.
Well, I must say that I am sentimental with my choice of recipe, mostly because I grew up in the city of Port Harcourt and I have always enjoyed this meal at home and whenever I visited my Ikwerre friends.
This soup doesn't take a long time to prepare at all. This is because sea food generally gets cooked within minutes. Remember that this soup is best enjoyed when it is spicy and steamy hot. This soup can be enjoyed with Pounded Yam, Eba, Semo or Fufu.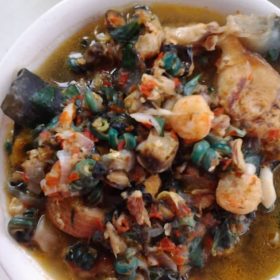 How to Make Fisherman's Soup
The fisherman's soup is very popular among the Niger-Delta states of Nigeria, mainly; the riverine communities of Rivers, Akwa Ibom, Cross River and Bayelsa.
Cook Time
1
hour
15
minutes
Ingredients
2

pcs

Fresh Fish (You can use tilapia)

1

Cup

Chopped Jumbo Shrimps

1

Cup

Isam (Periwinkle)

4

Pcs

Crab

1.5

Cup

Fresh Crayfish

(Chopped)

1.5

Cup

Chopped Uziza Leaf

1

Small

Bulb of Onion

1

Cup

Ngolo

2

tbsp

Cocoyam Paste

for thickening

2

cubes

Seasoning (Knorr/Maggi)

...to taste

1

tbsp

Powdered Crayfish

1

tbsp

Palm Oil

1

tbsp

Dry Pepper

1

pc

Scotch Bonnet Pepper

2

tbsp

Salt

...to taste
Instructions
In a clean pot of boiling water, place your Cocoyam. Cook until it is soft. Once soft, peel it and pound till it is completely smooth, forming a paste.

In a separate pot, add all the sea food apart from the fresh pieces of crayfish.Season with the scotch bonnet pepper, onion, dry pepper, seasoning cubes and salt. Allow the sea food to boil and cook properly in 1-2 cups of water.

Once the sea foods are cooked, add the fresh pieces of crayfish and the crayfish powder. Allow to simmer for 1 minute.

Add the cocoyam paste, stir properly until the cocoyam has dissolved completely and is evenly distributed. Add your palm oil and Uziza and allow to simmer for a minute.

YourRivers State fisherman's soup is ready. You can serve with Garri, Pounded yam or any swallow of your choice.
---
What is "Ngolo"?
'Ngolo' in South-South Nigeria also known as Whelks, are marine snails – they are also known as gastropods, or edible mollusks. In the United States, they are more commonly known as scungilli. Source: @ruttsocean